Commercial roofing relates to projects such as commercial premises, shops, schools, hospitals, and other business premises. We have been working in commercial roofing for nearly three decades throughout all areas of Melbourne.
Melbourne Commercial Roofing has successfully under taken hundreds of buildings for new and replacement metal roofing installations.
As is the case with industrial roofing, commercial roofing project timelines are critical to any business when replacing a roof or installing a new roof. Melbourne Commercial Roofing handle Project Management from start to finish. Our experienced and qualified commercial roofers give you the assurance that your project will be completed on time and on budget. All roofing works are guaranteed to product specifications and Australian building codes.
We recommend metal roofing for all commercial roofing projects because it is hard wearing, long lasting and suited to various roof pitches over small and large roof areas.
Installation is made easy as it is lightweight, and will provide you with a large selection of professional solutions to create the right roofing system to meet your needs.
Bluescope Zincalume and Colorbond roofing materials are the preferred product available for metal roofing. Both products are extremely durable with the only difference being that Colorbond provides extra coatings and offers you a wide range of colours whilst Zincalume roofing is a standard Zincalume coated finish. For this reason the Zincalume product is more economical to use than Colorbond roofing product.
Apart from the standard roofing profiles, we can also provide you with custom design Zincalume and Colorbond roof and wall cladding products. Melbourne Commercial Roofing are happy to give free quotations or tender submissions for all Commercial roofing projects, so call or email us today.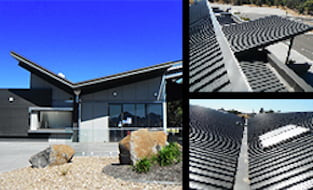 Material: Colourbond Kliplock Deck Roof, Box Gutters & Wall Cladding
System: Butterfly Roof & Horizontal Cladding
Location: Fawkner, Melbourne
Roof Construction: New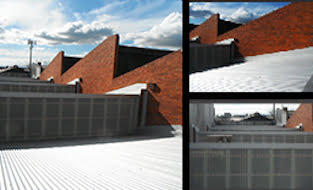 Material: Zincalume Corrugated Roof, Box Gutters & Fiberglass Skylight Cladding
System: Saw Tooth Roof
Location: Richmond, Melbourne
Roof Construction: Asbestos Roof Replacement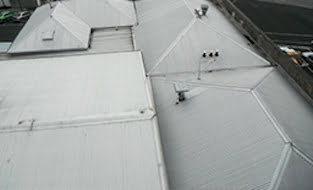 Material: Zincalume & Colorbond Corrugated Roof, Box Gutters & Eve Gutters
System: Hip & Gable roof
Location: St Kilda, Melbourne
Roof Construction: Replacement & New Extension
We have the experience and reputation to make your project a reality.
From concept through construction and installation, we are with you every step of the way.