Zincalume Roofing has been around for many years. This metal roofing just as recently as 2013 underwent advancements in technology. Bluescope has developed a product which is tougher and harder wearing, with less impact on the environment. Bluescope is an Australian Company which has designed Zincalume roofing for Australian conditions and building codes – they do not cut corners. They are committed to testing, re assessing and innovating their products to be market leaders in the field.
You cannot go wrong with Zincalume roofing because of its durability. The manufacturer Bluescope Steel has backed there product and offer up to a 36 year warranty.
Zincalume Roof Benefits
Zincalume metal roofing comes in different profiles from corrugated to flat pressed to suit your needs and style. One other good reason to consider when looking at Zincalume is it is very cost effective it could save you hundreds or more depending on application and size of the area. Zincalume only comes in its natural coated metal colour. This is where Colorbond roofing differs as you have a wide range of colours to choose from but make no mistake both products are built to last.
Colorbond and Zincalume roofing are the best selling products in Australia and rightly so. Installation is made easy as they are both lightweight which means they will not add undue pressure on the structure of your building. It is tightly secured to your roof structure to lock out any unwanted guests such as possums, and adds extra security to deter burglars. Given all the attributes of Zincalume and Colorbond you can understand why Australians love these roofing materials.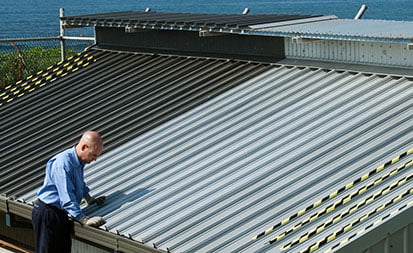 We have the experience and reputation to make your project a reality.
From concept through construction and installation, we are with you every step of the way.