Melbourne Commercial Roofing

Formed in 1973, Melbourne Commercial Roofing has been operating in Melbourne for over forty years. We specialise in all facets of Industrial & Commercial metal roofing. If you need a new roof or replacement of an existing or asbestos roof, feel confident that we have fully licensed and qualified Roof Plumbers to complete any project on time and on budget.
About Us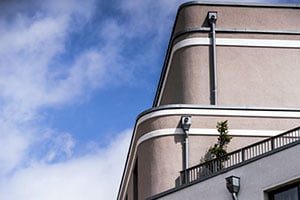 Professional Skylight Repair
Leaks in the skylight are common, and your skylight usually leaks because it has rust near the flashing, a few faulty seals or some shoddy workmanship. To fix a skylight leak, your roof plumber will typically put in new metal flashing to apply a water membrane for the flashing that is already in place.
If you see a lot of condensation on your skylight, then that could indicate a problem as well. This happens when air in the room with the skylight meets the skylight's surface when it is cold outside. This happens most commonly in kitchens and bathrooms.
To solve this problem, you can have a roof ventilator installed on the roof close to the skylight. This helps to balance out the temperature of the ceiling.
The three major types of skylight designs are Fixed, Ventilated and Tubular. Fixed skylights rest on your roof and provide no opening and closing option or ventilation. A ventilated skylight will open and close, which is ideal for bathrooms to fight against mould growth. Tubular skylights use a reflective duct pipe to bring light into the house, and this skylight is remarkable for its dome shape.
At Melbourne Commercial Roofing, we provide our customers with the very best in customer service for skylight and roofing repairs and installation. We have built up a reputation in the community and in the industry for excellence and professionalism in service.  We work with you to ensure the least disruption to your business and operations.
Asbestos Roof Removal
Only professionals with a licence can remove asbestos from a home or business. At Melbourne Commercial Roofing, we work in a highly regulated industry where asbestos removal and disposal is considered a dangerous but important job. Asbestos is connected to lung cancer, lung disease, mesothelioma and other health problem following the inhalation of asbestos fibres. This is a toxic substance that needs to be handled with care.
Any asbestos roofs in Victoria cannot be repaired due to new legislation. If any homeowner or roofing professionals attempts to work on an asbestos roof, there could be severe penalties. The best way to deal with this problem, when an asbestos roof needs repairs, is to call a professional to remove and get rid of the asbestos before any work can be done on the roof itself.
Asbestos removal and disposal requires following strict rules. These include the following:
Any asbestos remover must have a valid licence.
Each project that involves asbestos removal or disposal requires a permit.
Those living around you must be informed of the asbestos removal project.
All asbestos that is removed must be placed into a landfill designed to receive asbestos.
Once the project is completed, a clearance certificate will need to be issued.
These rules must all be followed if a homeowner wants a specialist to remove asbestos for them in their home. The homeowner is considered to be the principle contractor on these kinds of projects, and that means that they would have to bear the brunt of the fees and penalties if the rules are not followed. It is never worth it to risk trying to remove asbestos another way or circumvent the rules regarding this toxic substance.
What to Do When You Have a Roof Made Out of Asbestos
The first step is to have a professional assess your roof. For instances where the roof is old or damaged, there is already some risk of asbestos inhalation. After the danger has been assessed, a plan can be made to have the roof replaced.
Melbourne Commercial Roofing has handled many asbestos removal and disposal projects in the past, and we are fully trained, certified and experienced to get rid of your asbestos and replace your roof if necessary. Check our positive reviews and read testimonials from our customers to find out how happy our clients have been with the work we have done for them.
Have Your Asbestos Removal Done by Professionals
We can inspect your site at a time that suits you, and we do not charge for roof inspections/quotations. You have no obligation to hire us after requesting a quote. To find out more about the services we offer and how we can help you deal with asbestos replacement, please contact us today. One of our friendly customer service representatives would be happy to speak to you.
Visit the EPA site to find out more about asbestos and its dangers.
Commercial Skylights
Melbourne Commercial Roofing can install, design, repair and supply parts for commercial skylights. We operate a factory and a warehouse that can provide the parts you need for any kind of skylight, no matter what kind of building design you are working with. Our resources allow us to manufacture, deliver and design parts quickly and efficiently.
We have worked with major architects around Australia, and we are known for being leaders in the skylight and roofing industries. Our team can give you the skylight design that suits your needs, customised to your specifications. We have experience in designing and installing energy efficient skylights as well as systems that work with natural daylight. You can save money and make use of natural sunlight on your commercial property.
We offer standard skylights as well as customised square ones, circular designs, rectangular skylights and more. All these designs can be glazed using moulded acrylic and be made more energy efficient with insulated glass that is double glazed. The access hatch on any skylight you order from us can be a sliding hatch or hinged to fit your preferences. We offer daylighting systems and glass roof lights as well.
Many of our skylights come with 10-year warranties to ensure you get value from your purchase.
Our skylights have been tested for water tightness, and we can design skylights with very high energy ratings. We build the skylight you want. No matter what your commercial needs or goals, we can build or sell you the parts you want. You can get your project back on track and enjoy timely installation. Avoid delays by using our prompt and efficient service.
Customised Skylights
We pride ourselves on being able to meet our customers' specifications. We can offer wide range of skylight designs to meet our needs. We only use the highest quality materials and design products to the strictest standards of excellence. Our reputation is something that is very important to us, and our customers know they will reticence perfectly functional and long-lasting skylight products when they partner with us.
Every skylight we sell or make to order is designed and constructed by skilled tradespeople. We can coordinate the skylight of your choice with your roof colour for a beautiful look. Our approach to skylight design is to make our products both stylish and functional and to bring more value to your property.
Fix a Roof creates skylights that will stand the test of time and provide natural lighting and energy efficient design in glass, acrylic or polycarbonate.
Contact us today to find out more about our skylight services and how we can help you get the skylight you have always wanted for your commercial property.
Professional Melbourne Re-Roofing
All of our services are performed by licensed and qualified tradesmen who are fully insured and who always stick to the highest standards of quality.
Re-roofing is necessary when old tiles and flashing need replacement and a new roof will be put in their place. Re-roofing will only be necessary when your current roof is no longer structurally sound and cannot be fixed with simple repairs.
Here are a few instances where re-roofing would be necessary:
Rusted roofing sheets
Damaged roofing, gutters & flashings
Non compliant roofing systems that require upgrading
Very old roofing iron that can't be repaired
Severe damage where replacement is the most practical choice
At Melbourne Commercial Roofing, we consider re-roofing to be a major project. This isn't a job that you should pass off to an unqualified individual or company. You want a professional replacing your roof, because the safety of your property matters. Go with proven contractors who can get the job done well. Check out our qualifications on our website or call to get more information about our experience and expertise.
The Necessity of Re-Roofing
When you re-roof, it makes your building look incredible and it will provide safety for many years to come.
Here is what we do when we re-roof a home or business:
Place safety scaffolding around the building's perimeter
Get rid of old roofing materials
Inspect all roof areas, fixing or replacing as necessary
Provide and install new roof sarking
Provide and install new roof metal, down-pipes and gutters
Clean up the entire site after completion
We guarantee the work we do. We know you will be happy with our re-roofing job, but we promise to stand by our work over the next 10 years with an industry-best warranty. This is on top of any product warranties offered by manufacturers for the materials we use.
If you believe that your roof is in need of re-roofing, then give us at Melbourne Commercial Roofing a call. We will be happy to come to the site and assess the roof for you. We'll give you a fair price and ensure the work is done to our highest standards.
Why Should You Choose Us?
We are Melbourne's leading roofing contractor.
We have years of experience in the industry and use industry-best materials.
Our team of roofers are fully qualified, licensed and insured.
All labour and materials come with full warranties.
We are professionals in commercial and industrial roofing work, including re-roofing and roof repairs
We comply with all relevant regulations.
We have the experience and reputation to make your project a reality.
From concept through construction and installation, we are with you every step of the way.

Get in Touch
Melbourne Commercial Roofing have successfully completed projects such as shopping centres, warehouses, factories, schools, hospitals, high rise buildings and major developments.
From concept through construction and installation, we are with you every step of the way. With our team of qualified roof technicians, plumbers, estimators and office staff, you will feel confident throughout the entire project.
Your needs and concerns are our number one priority. Melbourne Commercial Roofing professional services ensure that clients' expectations are met and we have the flexibility to accommodate a wide range of designs and budgets as well as the skills and resources to deliver outstanding results.
Quality & Service
A quality roof requires quality products. Melbourne Commercial Roofing only use Bluescope Colorbond and Zincalume roofing products that provide you with the strength and durability to endure Australia's harshest climate conditions. Bluescope Steel provides you with a large variety of colours and various profiles of corrugated, deck and other roof sheeting and wall cladding profiles to suit any commercial or industrial project to enhance the overall look of any industrial or commercial roof.
Melbourne Commercial Roofing can provide expert advice and comparison on all roofing materials to assist you in choosing the most suitable product for your project. All Bluescope materials carry a manufacturer's warranty and all works are guaranteed by a Certificate of Compliance.
Pricing and costings will vary as all projects come with their own unique requirements. Quotations and tenders are available on request.
Our Roofing Suppliers and Partners